It's easy to see why medical practices worldwide are converting paper-based medical records into EMR systems. It's efficient, productive and yields big savings in the long run.


Yet did you know the EMR transition can be easy as well? OptiScan's proprietary ChartWorx EMR Scanning Solution is your prescription for a paperless practice.
Evaluating Paper-Handling Costs in a Medical Practice
It's not uncommon for medical practices to spend thousands of dollars a month in paper handling costs. First, there are the obvious hard costs such as paper, ink, folders, labels, toner, faxing, shelves, cabinets and storage. Then there are hidden costs associated with unnecessary labor. The time it takes to pull charts and track down misfiles can be costly and unproductive.

For example, a practice with 15,000 charts may spend $10,000 a month
in paper handling, taking both the hard and hidden costs into account.
This graph illustrates the savings when converting to a digital filing
system as compared to existing paper-handling processes: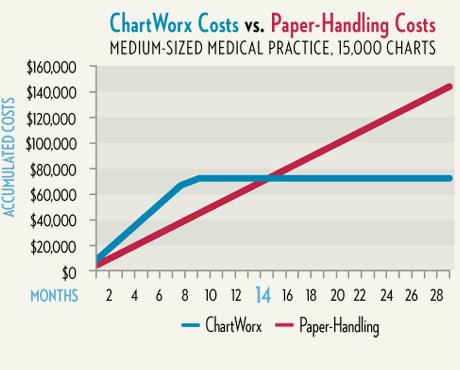 After nine months, scanning is complete and paper-handling costs are eliminated.
ROI is achieved during month 14.

EMR Conversions: Do It Yourself or Do It with ChartWorx?
Many medical practices attempt to scan charts themselves using their own administrative staff with a typical store-bought scanner, yet this method can actually be counterproductive and lead to numerous issues:
Admins aren't scanning experts. They haven't been educated on digital scanning techniques, proper scan settings and scanner maintenance. It's unrealistic to expect quick turnaround and the high-quality digital charts your practice needs.
A scanning project can be extremely time consuming and error prone, especially for those who aren't trained on the equipment. Your staff will be taken away from other regular duties and everyone's productivity will be impacted. .
Your admins can probably scan a handful of charts a day. Did you know it's possible to scan thousands each day?
Now enter ChartWorx by OptiScan – a comprehensive EMR solution combining high-quality equipment, an expert scanning staff and exclusive workflow processes to ensure all of your records are digitized quickly and efficiently.
Chartworx: How it Works
Our EMR experts will come into your practice, work alongside your staff and scan every chart with our own equipment – without interrupting your workday. We have a highly organized approach. All charts are tracked before, during and after the conversion – and all data can be easily accessed during the scanning process.

We have the capability to scan thousands of charts each day with high-quality large-volume scanners. All records will be optimized for image quality, scanning speed and image size footprints.

Chartworx: Benefits
•
Call us at (800) 369-5997 to set up a free consultation. We can provide you with numerous scanning options to fit your budget, timeline and practice size.